Okay, so I haven't been around much…I'm stressed, my son's had chicken pox, his nursery are being tw*ts about it…I haven't had as much time or head space to write things. I am still taking photos of Squish every day (well, I think I've missed one day, but that was the day Twink got chicken pox, so I think I have a get out of jail free card), but they will have to wait…photo uploading is still a bit dodgy…apparently Hubby has fixed it but needs to show me how to do something to the photos so they upload properly…or something.
Anyway, in an attempt to get a bit bloggy, I am pinching someone else's idea! Well, actually I'm supposed to, it's the Writing Workshop over at Sleep is for the Weak. I've chosen the first prompt – Write a post celebrating sisterhood. I've mentioned the person I'll be writing about before – my bestest ever, words don't describe, there for me in a crisis, buddy. We'll call her Bella.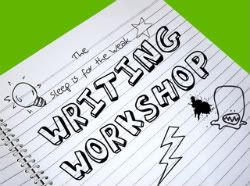 *****
I'm 3 years old and I've been chosen to look after the new girl in class. I was excited at being chosen, but a little disappointed about this particular new girl. With tears streaking her face, desperately trying to keep hold of her mother (who was only going as far as the school kitchen where she worked), this small girl with long hair did not look like my kind of friend. I was an adventurous, never looking back at the parents, confident three and a half year old – did I really have time to take care of a little girl like this?
Six years later, it turned out she really wasn't as delicate as all that, and we were already inseparable, but my world was about to break. Bella was leaving our Prep School, and no matter how I begged my mum, I was not allowed to follow. Mum, however, did make sure we could see each other at every available weekend. Sleepovers were arranged, days out to London planned. We had midnight feasts that were only ever at either 11pm or 3am as we always failed to stay awake. Our birthdays are only three day apart, so we celebrated birthdays together, in matching dresses and french plaits. We grew up, and we grew together. Better than a sister.
Bella came on holiday with my family once. We don't talk about that summer. Words were spoken, final letters sent, and now it's history. It was forgotten as if it never happened. We never needed to discuss it, analyse why it happened and make tearful apologies to each other between hugs. One day, one of us just called the other as usual – "Do you want to go shopping?" Neither of us knows which one made that call, but it was the same as ever. Two sides of the same coin. Peas in a pod.
Other friends came and went. We both went away to university. I came back. She didn't. Describing how close we are is difficult. We grew up thinking everyone had a best friend like this. Discovering that most people didn't was a revelation. I don't know what made us different, what kept us close throughout so many changes, but I'm glad it worked out this way. My life would be so much emptier without her in it.
It's May 2008, I'm swimming in the alternate reality of labour. Random snippets of conversation flashing between contractions. My husband on my left hand, my best friend on my right, helping me deliver my son. My best friend became my son's Aunt. More than that. His second mummy.
Flash forward to February 2010. I call her at 4 am on her daughter's birthday. She eventually arrives nearly forty minutes later (trust her to sleep in a different room to her phone when I'm 39 weeks pregnant!), and my daughter arrives into her arms two minutes later.
She held my daughter before I did.
This is closer than sisterhood.
My life wouldn't work without her in it. She makes my life better, drives me up the wall by being as random as me, and is one of the only people I can comfortably do nothing with.
She had major surgery on Friday. She will be home soon and I will be designated driver for the next eight weeks until she is allowed to drive. Eight weeks that I can spend helping her, when it's usually her helping me out.
How do people cope without a Bella in their life?
Well, I think that's crap…probably because I'm writing about real life…I think I babble less when writing fiction…but I'll click publish anyway…*gulp*.